If you're reading this, you're probably worried about your next-door neighbor, who, for all you know could be a drug-addled hardened criminal intent on stealing all your stuff, burning down your home, and kidnapping your dog; or you're afraid of your psychotic ex who knows where you live and wants to return to your place do the exact same thing. You want to make sure you're well-defended. You may have a gun at home, but you're not going to be there all the time. In desperation, you may be tempted to "Home Alone" your house to make sure uninvited guests don't leave unscathed.
This is stupid. Don't booby trap your home.
While not explicitly illegal in federal law, laying booby traps around your house indicates an intent to cause harm, and if a home invader dies because of your expertly rigged shotgun trap, then you have committed murder. This would be especially true if you were nowhere near the trap when it went off, negating any self-defense claims. The courts will destroy you.
Instead of turning your home into a suburban Viet Cong bunker, focus instead on turning it into an unassailable castle. There are several legal things you can do to turn your home or apartment into a hardened target that can be done without too much strain on your wallet or your convenience.
Peepholes and Peephole Cameras
The antiquated peephole is no longer the best option for checking who's at the door. You won't be able to see much, and your view will likely be distorted. By replacing your traditional peephole with a Ring Peephole Camera, you'll be able to see more of what's going on outside your door, even from your own mobile device or PC. The 1080p full color HD camera wakes up whenever someone rings its integrated doorbell or triggers its motion sensor, and it comes with built-in night vision to detect anyone approaching in the darkness.
Reinforcing your door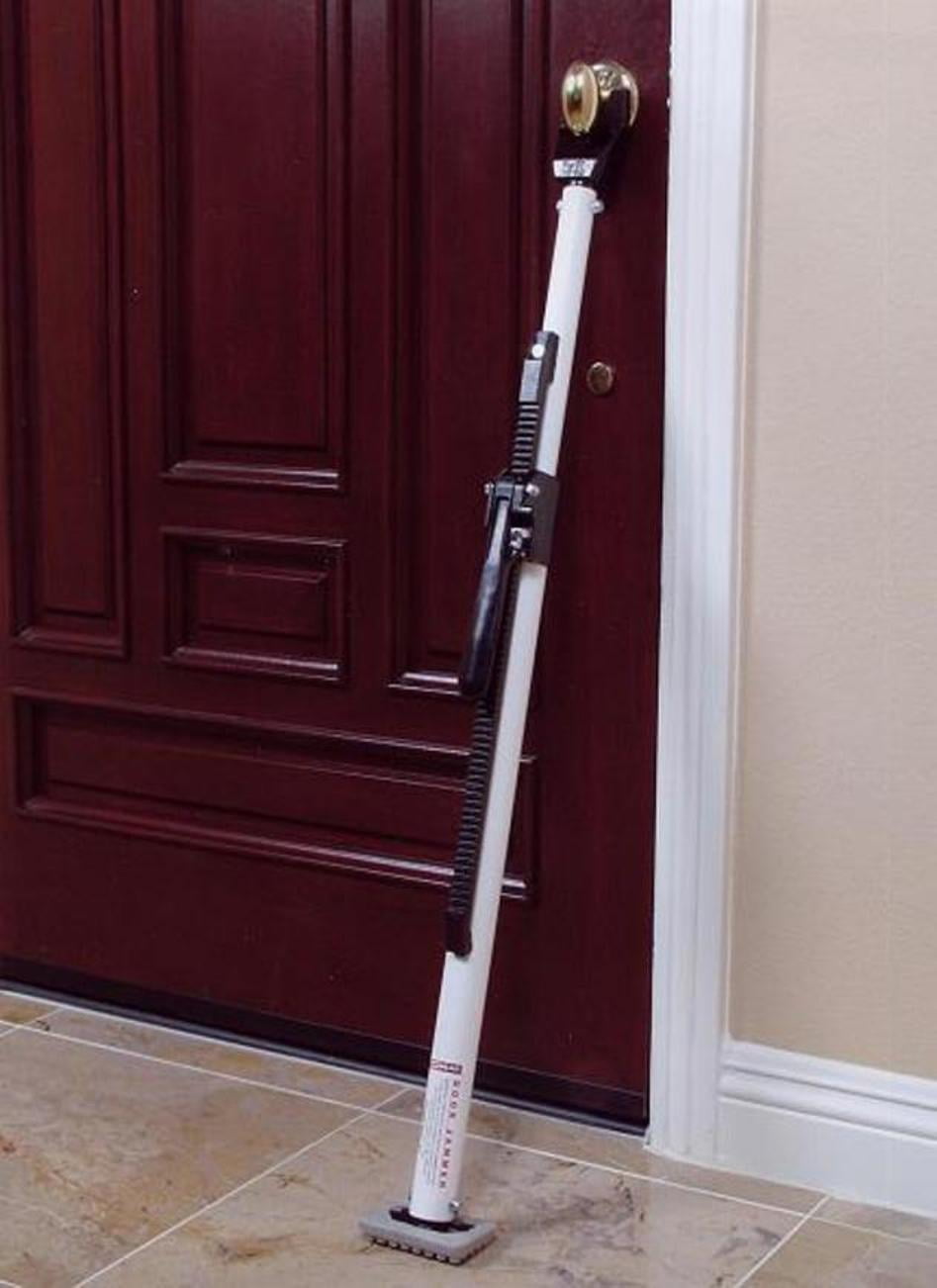 A door bar, also known as a door jammer or door stopper, is a cheap, effective way to block any would-be intruders. Relying on physics instead of locks, a security bar is placed between your doorknob and the ground, creating a brace which makes the door impossible to open. Typically adjustable in length, they consist of a bar or rod that can be extended or retracted to fit different door widths.
High-quality door security bars are designed to be tamper-resistant. They may have features such as non-slip rubberized grips on both ends to ensure a secure fit and prevent damage to the floor and door.
Since they're usually placed during the night when the homeowner is sleeping most door security bars are designed for quick and easy removal in case of an emergency or when you need to leave the house. You can simply release the pressure on the bar, retract it, and put it away.
Door security bars are particularly useful for reinforcing the security of doors that may have weaker locks or are located in high crime areas. They can also be packed in a bag and used in sketchy motels. While a door security bar can add an extra layer of protection, it's important to note that it's not a substitute for proper locks and other security measures. It's always a good idea to have a comprehensive security strategy that includes strong locks, proper lighting, and possibly even a security system to ensure your safety and the security of your property.
Reinforcing windows
A simple $12 piece of plastic is all you need to stop undesirables from sliding open your windows. As long as your window isn't simply a large piece of glass big enough for a grown man to slip through, the Burglabar is a simple device which sticks to your windows to prevent them from being opened from the outside.
This 3x2x1.38 inch self-locking hinge can be put on any sliding door or window to keep home invaders out or keep toddlers or little children in, whether a window is pulled up or down or slid to the side. For older windows or shutters that open inwards, shutter locks reinforced a simple stick cut to the length of the window and placed on the base of the shutter should be good enough to prevent entry.
Lawn
If you have a second-floor window and all you can see out of it is a tree, the window is useless, and the tree needs to go. Not only will you be able to get the benefits of more vitamin D from sunlight, but you'll also get a view of the exterior of your house, and you'll be able to see anyone approaching from far away.
If you imagine your home as a castle, your upper floor windows are the home defense equivalent of watchtowers, and watching the approaches to your castle gate is a vital part of any defensive strategy. Bushes or shrubs in your lawn also provide places for people to hide, either if someone is fleeing from another residence onto your property or if someone is waiting to ambush you when you walk to your garage.
I know I mentioned not to booby trap your home earlier in this article, but consider planting thorny bushes and shrubs like barberries, blackberries, cacti, or crown of thorns plants to act as a sort of natural barbed wire fence and keep home intruders away while keeping your lawn looking nice. Houseplants are neither booby traps nor deadly weapons.
Safe Room/Panic Room
A safe room doesn't necessarily have to be an armored vault with enough food and ammo to get you and your family through a siege. Growing up, the saferoom in my house was mom and dad's room, because it was located at the end of a narrow hallway and only had one entrance and exit. The procedure was that in the event of an emergency, I would grab my gun, head to dad's room, he'd grab his 12ga Armscor M30 and I'd grab my .22lr AK trainer and we'd both point it at the door while waiting for whoever or whatever was in the house to finish its business and get out.
The logic in choosing a defensible position in your home is that it may be more dangerous to go looking for the intruder, especially with a flashlight that announces your presence long before you step into a room. Once a hostile knows he's likely to be compromised, he'll either run, change his position to hide more effectively, or fight you. Moreover, getting your entire family in one room together ensures you will be able to defend them if you are the sole firearm owner, or preferably, fight together with them if all of you have your own personal firearms.
If the burglar in question takes any of your possessions, so be it. The primary purpose of home defense is to safeguard your life and the lives of your family. No amount of money or valuables is worth your life.
Personal Protection
In the event of a break-in, we must assume the intruder is armed and dangerous. When you're awoken by the sound of breaking glass, you may want to don body armor before reaching for your weapon and flashlight to head for your saferoom.
BulletSafe VP3 vests are NIJ certified and rated to Level IIIA, purpose-built to stop most handgun rounds up to .44 magnum. The most common pistol round in the United States today is the 9mm, so a Level IIIA vest would be more than adequate protection for such a threat. For more potent threats such as intruders armed with AR-15s, a Level IV Tactical Plate Carrier Kit is preferred. Like BulletSafe's VP3, the armor plate inserts in a tactical plate carrier kit are NIJ certified. Made of rigid ultra-high molecular weight polyethylene and a blend of aramid fibers, these Level IV plates are rated to stop rifle rounds up to .30-06 AP.
When it comes to preparing for home defense, it's crucial to prioritize your own safety and those of your loved ones when creating a secure environment in your home.
Investing in modern security measures like peephole cameras and door security bars can significantly enhance your home's defense capabilities, so can securing windows with cost-effective devices like the Burglabar. Additionally, strategic landscaping choices, like carefully placed thorny bushes and shrubs, can create a natural deterrent without resorting to dangerous traps.
Establishing a safe room or panic room within your home serves as a practical defense strategy. By gathering your family members in one fortified location, you can better safeguard their well-being while avoiding unnecessary confrontations with intruders. Lastly, equipping yourself with body armor, such as NIJ-certified Level IIIA vests or Level IV plate carriers, can offer vital protection against potential threats, allowing you to respond more confidently and effectively.
Ultimately, the key takeaway is that while safeguarding your property is important, prioritizing life and safety should always remain paramount. By adopting legal, thoughtful, and effective home defense strategies, you can create a secure haven that protects both your physical well-being and your peace of mind.